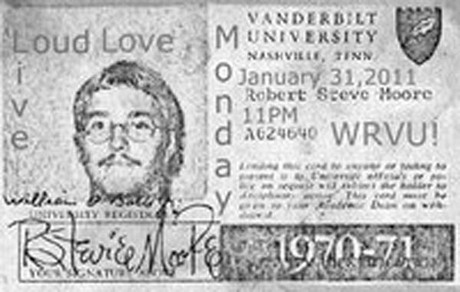 Originally broadcast Live on FM Radio in Nashville.
Who's gonna win this weekend, the Stackers or the Peelers?
Jim Morrison and the Commodoors of Perception?
It's a real special episode this week, as we were lucky enough to have the legendary R. Stevie Moore in studio with us to talk everything from Nashville to New Jersey, home recording and DIY, to free-form radio and the major role he played in it as an on-air DJ back in the very early days of New Jersey's famed WFMU 91.1. Not only talk though, as R. Stevie Moore and Mr. Roger Ferguson played live and acoustic a bunch of tracks, including material from the upcoming album being worked on right now. Hear these performances and love them? You can still be a part of the aforementioned album by heading over to the oft-mentioned http://www.kickstarter.com/projects/rstvmo/r-stevie-moore
Trust us, you don't want to miss this episode. R. Stevie Moore has roughly umpteenbillion albums to his name, most home-recorded and produced and published to cassette by himself and his own label, and really kicked off the DIY ethos that was to gain so much traction later on when the punk movement hit in the early 70s, and today with the decline of major label music and the onset of tons of self-published album through ProTools and GarageBand, Audacity and the internet and the like. R. Stevie Moore was doing it without the tools consistently since the 60s, only now you'll see more albums on CD than Cassette tape. His vinyl albums are still much sought after and hard to come by, and his work on WFMU really set the tone for free-form as something to aspire to. But most importantly, it's an interesting and fun 2 hours of good times and talk, and great music, including these live in studio performances from a once, and current, Nashville local.
Thanks again to R. Stevie Moore, Roger Ferguson, and Eric Andre who made this happen and also filmed the studio sessions. Keep your eyes peeled as we'll have some video for you as well from the Live Loud Love Sessions as soon as we can. Until then, take the audio here, listen, download, subscribe, enjoy, and go check out R. Stevie Moore- both online, and live in concert Fri, Feb 4th, at Mercy Lounge with Deerhoof.
And tune back in next Monday Night (or afterwards right here) for more Loud Love, heading back to the normal punk rock and hardcore format, with possibly another special guest in the studio with us! So stay tuned, and turn it up.
Playlist: http://tinyurl.com/4cr4rff
Huge week for shows here in Nashville, get out every night and keep the twitter to @NashRockCity for constant updates of where we head to rock out
Shows you'll most likely see us at this week: 2/1- Yo La Tengo & William Tyler @ Exit/In. 2/2- Monotonix (cd release show), Pujol, Hawkfish @ The End. (do NOT miss this one, one of the best live acts, seriously, you'll kick yourself) OR Cobra Skulls, Stuck Lucky, Commonwealth of American Natives @ The Muse. 2/3- Cowboy Mouth & Dash Rip Rock @ Exit/In. OR Karoshi & Yautja @ Little Hamilton. 2/4- Deerhoof & R. Stevie Moore @ Mercy Lounge (seriously, no way you can miss this after listening to tonight's show) OR Turbo Fruits, Denney & The Jets, D.Watusi, Slammers @ The Other Basement. 2/5- Cannomen & Gnarwhal @ Little Hamilton. ALSO this weekend fri/sat night and sun morning, you get a 2nd chance to see the amazing LEMMY documentary at the Belcourt. Find time if you haven't seen it yet. 2/6- Super Bowl! Followed by afterparty with Chris Crofton Comedy, Alcohol Stuntband, and Cy Barkley @ Springwater.
That enough for one week? Rock n Roll Nashville.