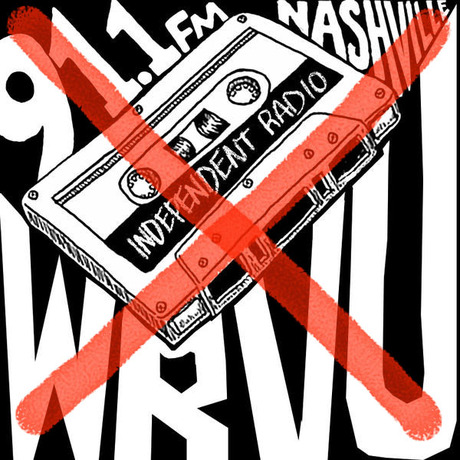 Originally broadcast Live on FM Radio in Nashville.
..wonder if we'll ever get to use that header again.
The radio station we spin Loud Love on every week for the people of Nashville, WRVU 91.1FM is no more. It was sold off in an unbelievably shady, underhanded, and foolhardy way and the signal that was Nashville's only choice for free-form music that might not be heard anywhere else for nearly 60 years was cut off without warning, or even a chance for a final sign-off, at 2:30 PM, 6/7/11.
WPLN, an NPR affiliate purchased it to make a 24/7 classical music station so that they could focus on only talk radio.
Before we broadcasted this week's show that you are listening to now, word was leaked that the call letters had been secretly changed. As this was the obvious death knell that the fight to save WRVU that we now know never stood a chance, (The sale was made anyways over the objections of thousands, the money-raising efforts of a non-profit organization, and logic.) the episode you are hearing tonight may feature us nearly dripping with sarcasm as we struggled to maintain professionalism in the face of such obvious disrespect, and in fear that this might be our final broadcast. That it did turn out to be, without letting us know, is a tragedy we won't soon get over.
However this WILL NOT be the end of Loud Love. We are already making plans to land our feet, begin talking to other radio stations, and expanding our affiliations with the online music magazine www.sinizine.net .
There will likely be a break of just a couple weeks here on Loud Love as we evaluate our options, speak to friends and advisors in the business, and work out a new plan of action, but rest assured, we'll let you know here first and there WILL be more Loud Love coming to listen to on a regular basis.
We love all you listeners so much and hope you enjoy rocking as much as we do, so download this week's episode, turn it up loud, share it with your friends, mourn WRVU and the state of non-mainstream music on radio in general, and get ready, cause even as this was our last show broadcasting for this radio station, we don't back down, and you'll get over 20 songs in one hour of killer punk rock, some tidbits of knowledge, and barely controlled rage. Enjoy! And we'll see you again real soon. (Oh and you'll just have to follow along the playlist as we announce them on the audio, as they've already killed WRVU's archives and website as well.)
Make sure you're still with us over at Twitter @NashRockCity and at www.sinizine.net/shows and you won't miss a beat on the coolest rock going on in Nashville... you just won't be able to hear it on the radio anymore.
As an added bonus, here is the official last song ever played on the venerable WRVU 91.1FM in Nashville. Amazingly fitting and haunting..